Mandalay Criterium 2018, 11th November 2018
View Calendar
Register
About Mandalay (Race Venue)

Mandalay is the second largest city in Burma, has a population of 1.5 million. There are a lot of colonial era buildings and these heritage were destroyed during the Second World War, and further obliterated by several fires that ravaged the city. Many of the religious sites remained wonderfully intact and the downtown area is mixed Myanmar ethics with Chinese residents. A "must see" would be the wooden U Bein Bridge (AKA U Pain Bridge), pictured above. It is 160 years old, built across a large lake linking two villages. Next on the list would be the 729 white stupas of the Kuthodaw Pagoda, each with a page of text, presenting the "largest book in the world".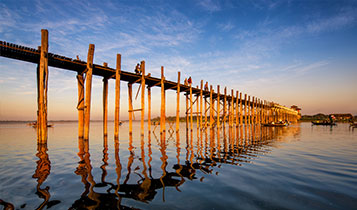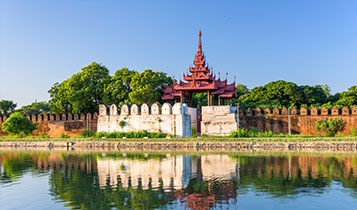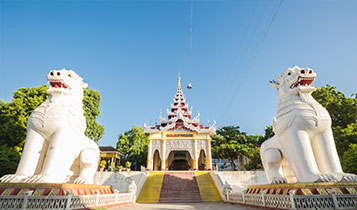 For Mandalay Criterium 2018, Myanmar Cycling Federation (MCF) is submitting race venue and detail in the following.
1. GENERAL INFORMATION
Name of the event - Mandalay Criterium 2018 Class of the event - Criterium Location of the event - Mandalay, Myanmar Date of the event - 11 November 2018
---
2. CONTACTS
Organizing committee
Myanmar Cycling Federation
Tel: (+951)547140~315
E mail: contact@mcf.com.mm
Website: mcf.com.mm
Contact person within the organization
Contact 1: John Signh
Tel: (+959)443057457
E mail: myanmareden187@gmail.com
Contact2: Aung Naing Moe
Tel: (+959)5007620
E mail: treasurer@mcf.com.mm
---
3. COMMISSAIRES PANEL
President of the Commissaire Panel - Mr. Jinshan ZHAO
---
4. REGISTRATION
Onsite registration - Yes
Number plates for participants - Provided by MCF
*Remark | Registration is limited to 6 riders per category per country
---
5. RACE PARAMETERS
Men Junior (U-19) Categories
(6) Ride (20) Laps
Men U-23 Category
(6) Ride (30) Laps
For Myanmar Nationals only
Under 40
30 Laps
Under 40
20 Laps
---
6. POINTS SCORING FOR RACES
Participants of each criterium race can gain points according to the following:

Number of laps completed
On every fifth lap and the final lap, the first, second, third and fourth rider gets 5, 3, 2, 1 points respectively
This means that there will be four sprints for riders during the Men Junior (U-19) Category and Masters Category which cover 20 laps. For Men U-23 Category and Open Category, there will be six sprints as these races are 30 laps long. After each sprint, riders can recover their energy for the next sprint but should try to avoid being lapped by breakaway leaders who attempt to lap the main bunch.
---
7. PRIZE MONEY
U19,U23
Under 40
Above 40
Winner
$2,000
Winner
MMK500,000
Winner
MMK300,000
2nd Prize
$1,000
2nd Prize
MMK300,000
2nd Prize
MMK200,000
---
8. ACCREDITATION
Race Officials
VIPs
Team Officials and Riders
Media
---
9. RACE SCHEDULE
Schedules in each day shall be adjusted.
Date
Time
Particulars
Remarks
09-Nov-18
Arrival of teams
10-Nov-18
13:00
Team Managers Meeting
17:00
Racing Route Surveying
19:00
Welcome Dinner
11-Nov-18
7:00
"Ride for Peace" riding campaign
7:15
"Officials Ride" features officials & guests
7:30
Men Junior U19 Catergory-20 laps
8:30
Men U23 Catergory-30 laps
9:30
Open Catergory-30 laps
10:30
Master Catergory-20 laps
12-Nov-18
Departure of teams
---
10. TEAM MANAGERS MEETING
| | |
| --- | --- |
| Date and time | 10-Nov-18 |
| Location | Hotel Marvel |
| Other relevant info | Manager meeting Number plates and transponders will be allocated during this meeting |
---
11. TRACK
| | |
| --- | --- |
| Truck | Flat course |
| Track length | 1.6km |
| Track surface | Asphalt roads |
---
12. VENUE MAP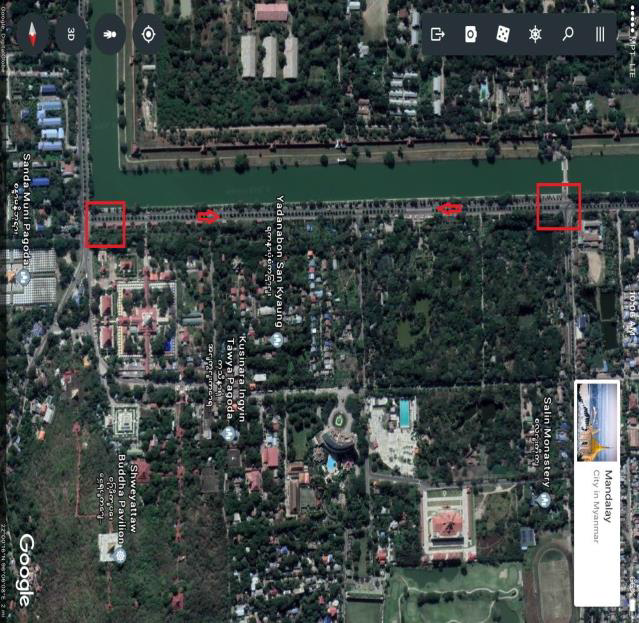 ---
13. OTHER RELEVANT INFO
| | |
| --- | --- |
| Award ceremony | To be held immediately upon completion of the event for all categories |
| Transport | MCF will arrange transportation from airport to hotel and hotel to airport. During the period of racing day, bringing bikes of riders from and to hotel will be arranged by MCF. |
| Nearest hospital | Mandalay General Hospital (2km) |
---
14. ACCOMODATION
Hotel Marvel, Mandalay, Myanmar
http://www.amazing-hotel.com/
Tel : (+95 2) 40 67466, 40 67477, 40 67474, 40 67488, 40 67499 Fax: +95 2 67474 Email : fom.hotelmarvel@gmail.com,
brreservation.hotelmarvel@gmail.com

---